16.10.2010


One Wish Away Official Video Online

Read more >>>
---

05.10.2010

Check Out the new album title song HERE
Read more >>>

20.10.2010

The new album "Out Of The Ashes" will be relased next week! Digitally at the same time.
Read more >>>

25.09.2010

Third preview from the album, "Delirium". Check It Out HERE!:
Read more >>>

24.09.2010

Katra has started making a new video for the song "One Wish Away. It should be ready within a few weeks. Stay tuned!
Read more >>>
Showing <1 - 5 10 Stories | Pages 1 2
< Edellinen
1
2
Seuraava >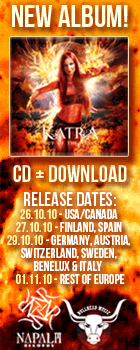 It looks like you don't have flash player installed. Click hereto go to Macromedia download page.

Open the player in a pop-up window, click here
PRE ORDER THE NEW KATRA ALBUM "OUT OF THE ASHES" NOW :

FINLAND

EUROPE